Dental assistants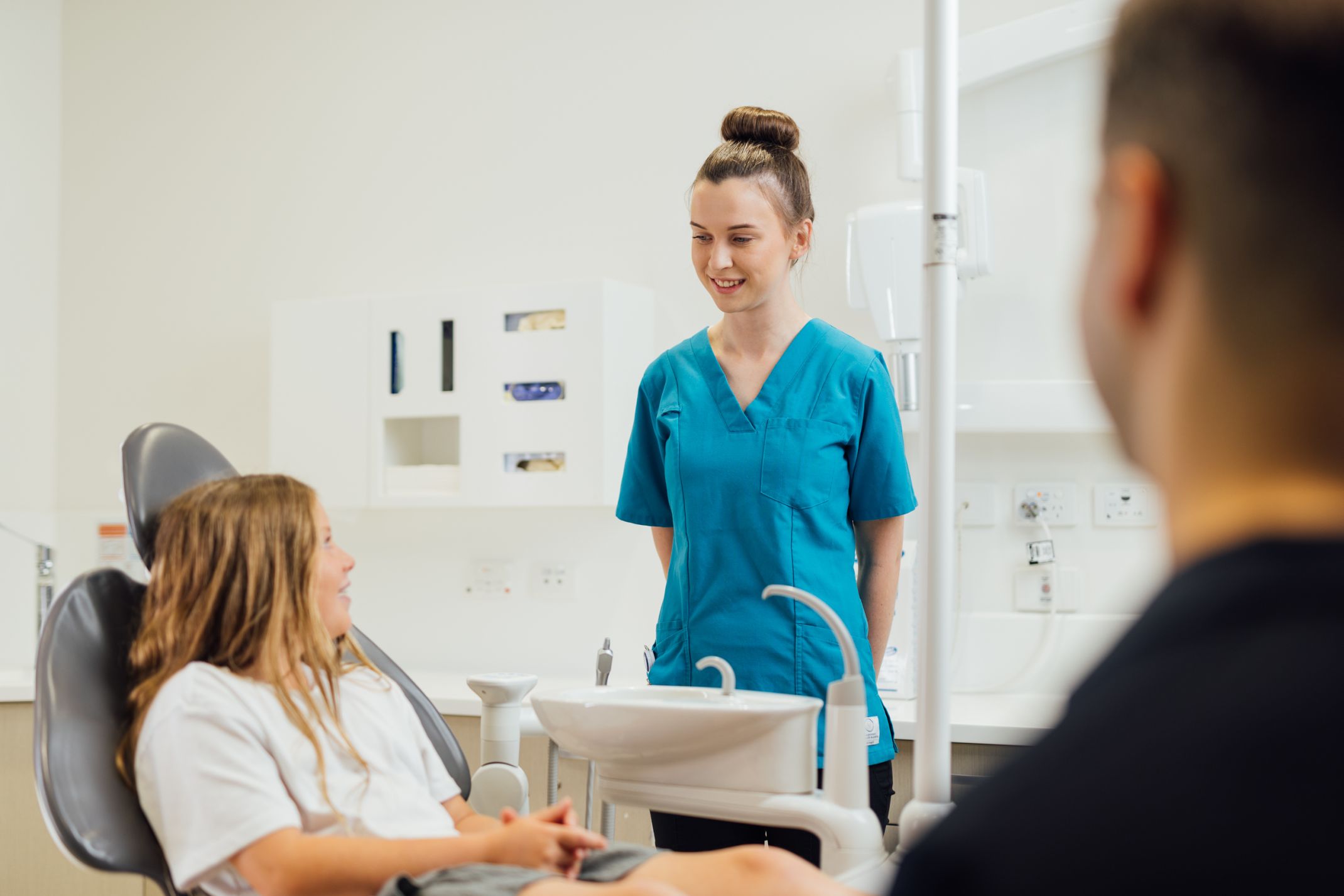 As a Dental assistant with SA Dental, you will
Provide chair-side dental assistance to dental practitioners
Prepare dental materials and equipment
Process, prepare and save radiographs
Maintain and promote infection control and contribute to reprocessing of reusable medical devices
Assist with oral health education as directed by the dental practitioner
Assist with routine administrative tasks including greeting clients, making appointments, answering telephone calls, and entering client details into records.
Dental Assistants are classified under the SA Health "Operational Services" (OPS) stream.
The classification levels for Dental Assistant positions are at the OPS1, OPS2 and OPS3 levels. Within each classification level, there are a number of salary increments.
OPS 1 and 2 level positions are general Dental Assistant positions (more responsibility is involved at the OPS 2 level position).
OPS Level 3 positions are Senior Dental Assistant roles which have further responsibility for staff supervision and running of clinics in the organisation in addition to general responsibilities.
TAFE SA - Certificate 3 in Dental Assisting
TAFESA are now offering over 100 qualifications and skill sets free of tuition fees for eligible students that align to the state's priority industry growth sectors and priority cohorts – one of which is the Certificate 3 - Dental Assisting.
For further information about this course visit the TAFESA website.
Recruitment campaigns for experienced Dental assistants occur multiple times per year depending on staffing requirements, for the Dental assistant candidate pool and the Dental assistant casual pool.
The recruitment process aims to find suitable candidates for permanent and contract Dental Assistant roles at the OPS1 and OPS2 level for the Dental Assistant Candidate Pool as well as candidates interested in casual Dental Assistant work.
The recruitment process aimed at finding suitable candidates for the Dental Assistant roles are described below.
The recruitment process
Step 1 – Lodge Application
Step 2 – Reference checks
Step 3 – Written and practical testing
Step 4 – Interviews
Step 5 – Outcome:
Successful
Not Successful
Candidates who accept an offer of employment will be sent the pre-employment documentation to complete including the screening checks listed below. An offer of employment can only be confirmed if these mandatory checks are satisfactory.

Healthcare Worker Immunisation Screening – In addition to immunity to Hepatitis B, documented evidence of immunisations and blood test results for other conditions will be required at this stage to complete the Healthcare worker immunisation screening and gain a clearance to work with SA Dental. COVID-19 vaccination is an essential requirement under the Emergency Management (Healthcare Setting Workers Vaccination) (COVID-19) Directions 2021 to work in a SA Health/Health care setting.
WWCC Screening Unit check – for Working with Children Screening. National Police Checks are not sufficient to gain employment with SA Dental.
If you are unable to achieve clearance in either of these mandatory checks, your application will be deemed unsuccessful.
Keep updated with job alerts
We recommend registering for a 'job alert' on the SA Health Careers website, to keep up to date on Dental assistant selection processes.
Log onto SA Health Careers
Select the "Job Alert" button on the left-hand side.
Enter your email address
Keywords: Dental Assistant
Select the following items to ensure that all dental advertisements are captured
Categories: Select All
Locations: Select All
Work Type: Select All
The job alert will last 90 days and details can be updated if required.
As positions are advertised, registered users will be sent an email to your nominated email address which will provide information of the positions available and a link to the online application form.