Oral health care & assessment planning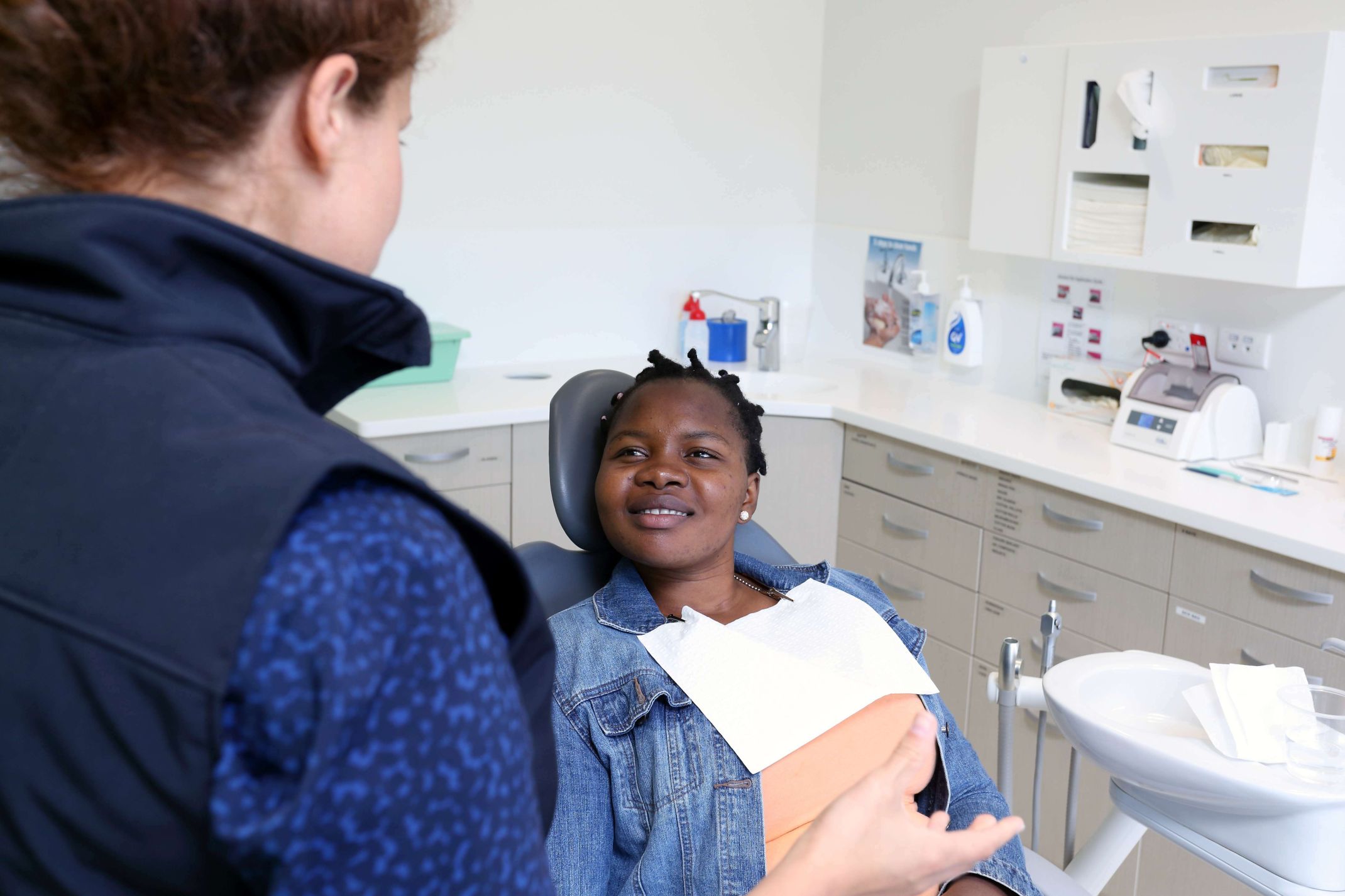 Oral health care assessment & planning
The six-question oral health assessment tool has been developed to help non-dental health workers identify adults who are experiencing or who are at risk of poor oral health.
The six simple questions are predictive of a person's need for dental treatment.
A 'yes' to any of the questions 2 - 6 indicates a dental referral is required.
Do you have any of your own natural teeth?
Have you had pain in your mouth while chewing?
Have you lost any fillings, or do you need a dental visit for any other reason?
Have you avoided laughing or smiling because of problems with your teeth, mouth or dentures?
Have you had to interrupt meals because of problems with your teeth, mouth or dentures?
Have you had difficulty relaxing because of problems with your teeth, mouth or dentures?
Oral Health Care Assessment and Planning - Supporting quality oral health care for patients
The risk of poor oral health increases as people become less able to self-manage due to issues of functional dependence, physical frailty, medical co-morbidity, poly-pharmacy and cognitive impairment.
Increasing numbers of people are retaining at least some of their natural teeth. As their ability to self-manage oral hygiene decreases, their risk of oral disease and infection increases.
Oral disease impacts on other areas of health and quality of life.
Oral Health Assessment is essential for the identification of issues and implementation of management strategies.
Simple oral health strategies involving a multi-disciplinary approach can assist with promoting and maintaining good oral health.
Continence
Poor oral health affects food selection in particular the ability to chew foods with high fibre content. This can affect continence management.
Delirium
Chronic infection from poor oral health can compromise the immune system and contribute to a systemic inflammatory response. This in conjunction with oral pain can exacerbate a change in behaviour especially for older people with dementia.
Dementia
Older people with dementia are particularly at risk of developing complex oral disease and conditions. Dementia compromises their ability to reliably report their experience of oral health problems and dental pain. In addition, older people with dementia can sometimes behave in ways that make it difficult to provide oral health care.
Depression
Poor oral health may cause pain and discomfort, bad breath, impact on people's ability to speak, sleep well, socialise and feel happy with their appearance.
Medication
Polypharmacy can impact on oral health by causing dry mouth (xerostomia). Drug classes that especially contribute to dry mouth are those with anticholinergic effects such as ACE inhibitors and diuretics. For further information contact the Therapeutic Advice and Information Service.
Mobility
As a consequence of poor oral health, nutritional status may suffer and have an impact on maintaining weight, muscle mass and strength.
Nutrition
Tooth loss, poorly fitting dentures and oral infections affect appetite, food enjoyment and ability to chew which impacts on food intake and food selection.
Skin integrity
As a consequence of poor oral health, nutritional status may suffer and have an impact on skin integrity and wound healing.
Oral health is linked to general health, and oral conditions involving teeth, gums and dentures can significantly affect overall well-being and the ability to age positively.
For example:
Oral pain and difficulty with eating can affect nutritional intake and body weight and therefore skin integrity, strength and mobility, and continence.
Oral pain may also affect mood and behaviour, especially for people with cognitive impairment who find it difficult to self report their pain and discomfort.
Poor oral health is linked to increased risk of cardiovascular disease, stroke and aspiration pneumonia. Aspiration pneumonia is a major cause of morbidity and mortality for hospitalised and institutionalised frail older people.
Chronic oral infection can complicate the medical management of general illnesses such as diabetes, chronic heart failure and respiratory diseases.
Poor oral health results in bad breath and affects people's ability to speak, socialise and feel happy with their appearance.
Medications taken by older people or people with mental health conditions often cause dry mouth (xerostomia) which affects speaking, eating and also increases the levels of oral bacteria and infection.
Oral health care involves a multi-disciplinary approach and includes simple strategies to assess oral health and provide oral health care of the following
lips
tongue
gums and tissues
saliva
natural teeth
dentures
oral cleanliness
dental pain.
Check for and report or follow up on signs of the following oral health conditions
soreness and cracks at corners of the mouth
sore, swollen or inflamed or coated areas on the tongue
red swollen mouth
bad breath
dry oral tissues
saliva which is thick, stringy or rope-like
swollen red gums that bleed easily when brushed
loose or broken teeth or exposed tooth roots
oral pain or tooth sensitivity
difficulty eating and or speaking
changed behaviour and refusing to open mouth
poor oral cleanliness and food left in the mouth
chipped or broken teeth on the denture
chipped or broken acrylic areas on the denture
bent or broken mental wires or clips on a partial denture
check for a name on the denture.
It is recommended that an appropriate health professional such as a registered nurse or doctor perform an Oral Health Assessment using the Oral Health Assessment Tool (OHAT) on admission and repeat as required
A 'healthy' or 'changes' assessment can be managed using the Oral Health Care Planning Guidelines.
An 'unhealthy' assessment indicates a referral to a dental professional is recommended. As most referrals are likely to be of a non-urgent nature, this information should be included in discharge planning advice and correspondence.
Management principals should be based on a Model of Oral Health Care which integrates four key oral health processes into general care
oral health assessment
oral health care planning
assistance with daily oral hygiene
referral for dental treatment.
For healthy teeth and gums follow these simple steps
use a soft toothbrush
clean your teeth or dentures twice a day
use a fluoride toothpaste
drink water when you are thirsty
sip water if your mouth is dry
eat a healthy diet
avoid sweets and sugary drinks between meals
visit your dentist for a regular check-up.